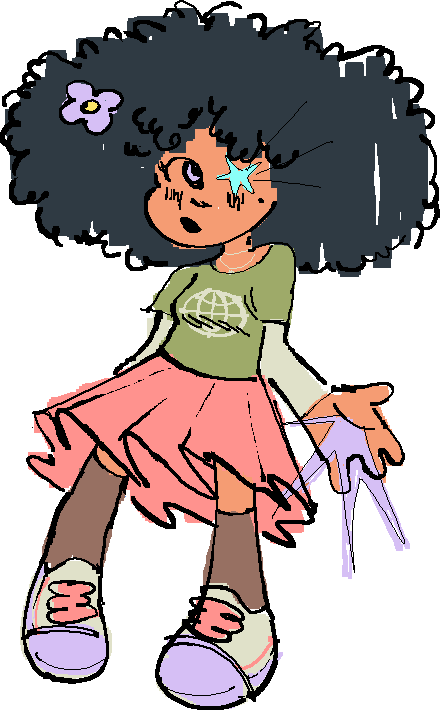 me. source: me!
about the webmaster 彡★
oi there! i'm izzy, and also gabriela, and i'm the madwoman fabricating this dope machine. i'm a genderqueer transfem post-atheist pictomaniac tinkerer witch cyberwizard webmaster *pause to breathe*... phew! long story short, i'm a girl who likes making stuff. this site is here so i can share some of that stuff, and hopefully also a little about myself. i'm passionate about drawing, making music, writing, cartoons and web design. this is the second time around i'm writing this profile.
i live in brazil and speak portuguese first and english first-and-a-half. i have an interest in linguistics, specially phonetics, etymology and syntactic analysis. i've tried to learn french, korean, japanese, esperanto and russian, but it seems my brain is a little less than inclined to grant me the key to their secret, secret tongues. it might be my fault for using d**lingo but i'm being in the phase of denial about it.
as far as i can remember, i've been drawing something, and i like to think of myself as an artist. most of my drawings are either of ocs or characters from stories i like, or just random shapes the universe beams into my brain. some of my influences are graffiti, western animation and vintage illustration. my main weapon when drawing is a wacom one tablet. it'd be cool to work with illustration someday, or maybe be an animator, but i don't even know where to start with that. i should probably make a portfolio... oh, that reminds me; i plan to put up a gallery index here, with all of my dopest piecez for da wurld to see B)

i like to listen to music a lot! i like breakcore, hyperpop, anti-folk, anything you can call rock and mpb (música popular brasileira) – but at the end of the day i'll listen to basically anything if it's cute or sounds like a dying dog. i plan to make a music post under the media index sometime in the future, but while i don't get around doing that, i have some of my favorite albums at the bottom of this page. i also make music, which is mostly inspired by video game osts! sadly, i lost most of it with my old pc, but i'll try to scavenge for the files someday.
hobbies ⤵
things i like to do a lot
♡ drawing and doodling




♡ listening to music




♡ watching video essays

♡ working on this site




♡ watching cartoons




♡ writing about my ocs

♡ making silly music




♡ browsing wikipedia




♡ doing picrews
aspirations ⤵
things i want to get into
♡ entomology




♡ analogue media




♡ sewing




♡ astronomy

♡ crafts/miniature art




♡ cyberdecks




♡ tarot




♡ gardening

♡ pen spinning




♡ modular synthesis




♡ making origami



random facts ⤵
tidbits about myself
⤷ i can solve a rubik's cube




⤷ my favorite color is pink




⤷ i can ride a bike with no hands

⤷ my favorite drink is coffee coke




⤷ i have a dog named dorothy!




⤷ i... probably have adhd!

⤷ i can count in binary on my hands




⤷ no one can destroy me. ★
albums ⤵